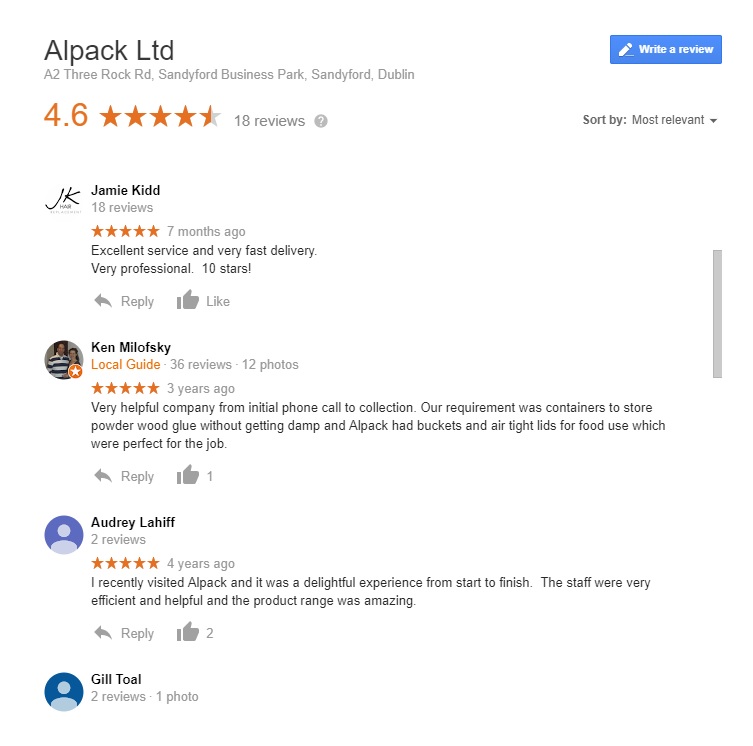 ---
From: Martin Prendergast
Sent: 11 December 2018 09:36
To: Sales
Subject: Well Done
Greetings,
I ordered some bottles and related products from a very nice lady, called Audrey, yesterday afternoon on the telephone. My delivery arrived, at my door, in Mohill, Co. Leitrim, at 8.20 this morning!
GOOD GOING, ALPACK!
And kudos to An Post!
Regards and best wishes for a Happy Christmas,
Martin Prendergast.
---
From: Emma
Sent: Monday 10 June 2019 17:15
To: Jenny
Subject: Re:
Hi Jenny,
Sorry I missed your call, I'm working in the shop and had customers in. I'm so glad you got it ok!
Like I said I really do appreciate what you did for me. The Bride was so happy with everything and wedding guests loved their gifts and that's because you were able to pull it out of the bag for me with delivery of the boxes. I hope you like the candle.
Sending you a few videos of what I did with boxes attached, hopefully you'll be able to see them????????
Have a great week!
Kind regards,
Emma