We are Alpack
June 1, 2016
Greetings all.
Alpack LTD without prejudice need to highlight a very low brow marketing tactic being employed by one of our competitors. Please see image below being used to confuse our customers.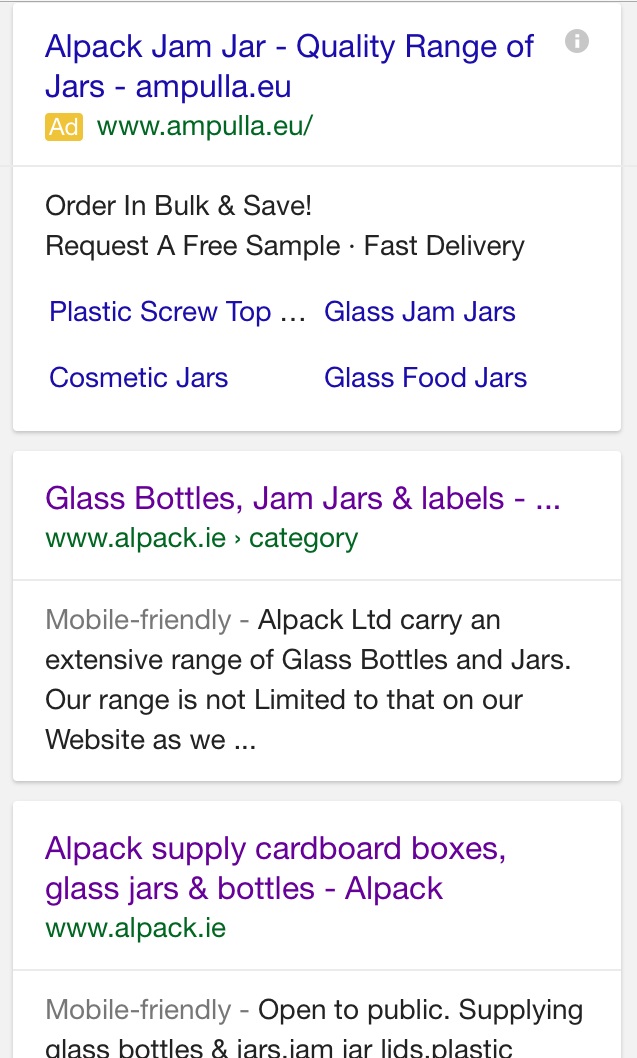 We want to clearly state that Alpack has no association with the above company and have never traded with or been in contact with the above company. Alpack have for over 30 years been trading in both the UK and Ireland and have built a reputation of being a company offering excellent customer service and value for money. Alpack would be embarrassed to charge customers the prices being quoted on this site. You will notice that Alpack appear in both 2nd and 3rd position in the image above. This ranking has been achieved by hard work in optimizing our website for our customers.
We employ high standards when it comes to marketing our business. We are experts in our field and will market our company on its strengths rather than employ the tactics employed above.
In support of our customers Alpack Ltd:
Purchase all our Glass Jars and Caps from EU suppliers that all conform to standards set out by to EU to protect consumers I refer to EU Directive EC1935/2004 and EU2023/2006 for article intended to come into food contact.
Specifications are available for all glass jars and Twist off closures supplied by Alpack.
Migration Certification is available for all products supplied by Alpack.
Full traceability is available for all glass products and Twist off closures.
We fully support our customers with any Technical or processing problems they may have and can be on site to help with this.
We assure all our customers that all products supplied are of the highest quality and look forward to serving you into the future
Alpack Ltd.